Also you can offer Halal cuisine. (Per person ¥ 3,000 to 10 people ~)
When use of, you will book give me until a week ago.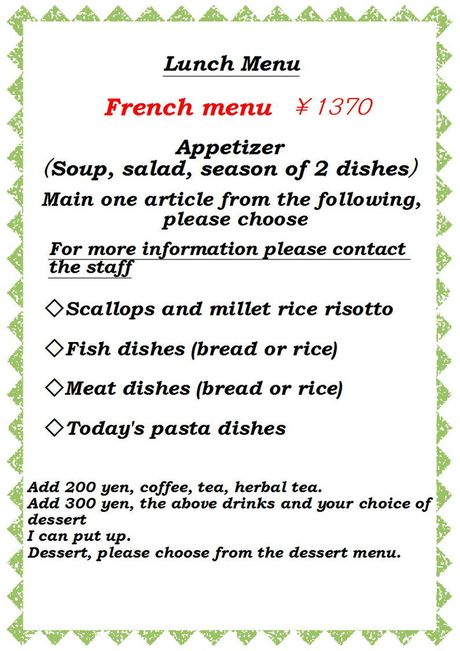 Lunch comes with all the appetizers three and soup.
You can choose the main one dish from among the seven.
If you are booking, if you pre-tell the main, you can offer to smooth.

French main four,

◆ scallops millet rice risotto

◆ Today's meat cuisine

(Bread or rice)

◆ Today's fish cuisine

(Bread or rice)

◆ Today's pasta dishes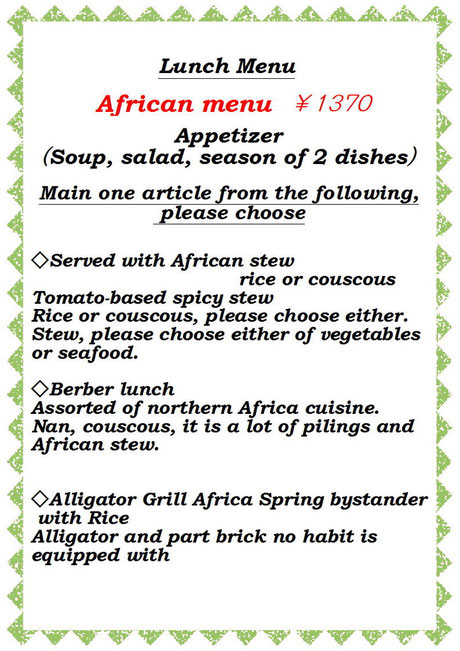 Main three African cuisine,
◆ African stew
Tomato-based seafood or vegetables are in the stew.
The combined eating, couscous or rice.
Please in your favorite combination!
◆ Berber lunch
Plate in daily of African stew and couscous, I will Yes served with grill and thin bread of meat.
◆Alligator Grill and Africa spring roll
Says part brick Tunisia of spring roll and rice, I have been incorporated into one dish the meat of the grill.
Desserts are also substantial, you can choose from among the six types of homemade sweets.
(In the lunch time I can add drinks and desserts with additional 300 yen)
Drink, please choose from the coffee,Kenya tea herbal tea, Rooibos.
(Additional 200 yen only lunch time drink)